05 SEP - 2023
Victor Davies Solo Exhibition "RUNK"

"RUNK
叛逆英潮"
Victor Davies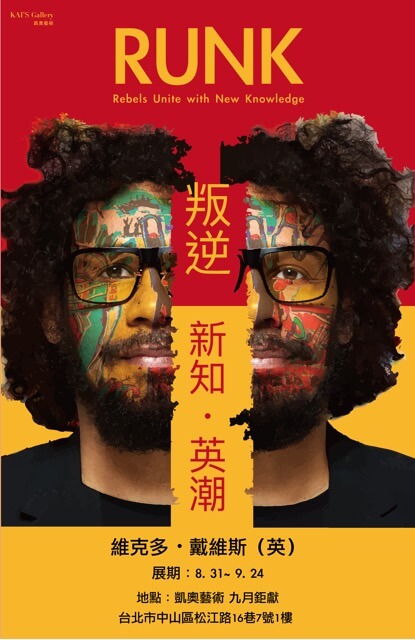 The title of this exhibition is "Runk".
The idea behind this exhibition is the core of creation that combines rebellion with the trend of the times.
It contains the idea of artists rebelling against the norms of the past in a joyful way, and breaking away from tradition and rigidity. It also emphasizes our diversified use of modern technology and innovation.
Conceptually, the Internet is no longer guarded by gatekeepers, and new technologies allow art techniques to disseminate and share knowledge, allowing us to reach a global audience that was once hidden and unreachable. This is also a kind of overriding thought that knows no borders or boundaries!

The vibrant colors and expressive language of the artworks strongly reflect the rebellious spirit and joy of contemporary youth, and symbolize "creative journeys and explorations and dialogues into uncharted artistic territories".
Hailing from the UK, Victor Davies is a multi-instrumentalist, a soul singer and a contemporary hipster artist.
In order to explore more diverse artistic fields in the future, we will never give up an opportunity to embrace any type of art.
Welcome to KAI'S Gallery!!
_____________________________________________
Victor Davies Solo Exhibition "RUNK"
⟢ Duration|2023/8/31(Thu.)- 2023/9/24(Sun.)
⟢Opening Times | 10:00 - 18:00( Mon Off)
⟢Venue |1F, No. 7, Lane 16, Songjiang Rd.
 Email contact worldartservice@gmail.com for more preview info.